Founded in 1926, APOEL FC Football Club has been adding trophies to its collection ever since, with 27 championships to its credit. The Nicosia-based club has some of the best players in Cyprus. As well as being one of the biggest teams in the Cypriot league, the team has become a family sight in the UEFA Champions League, bringing an international focus to the small island's soccer talent.
The old VoiceTel system helped APOEL FC get to where they were. But some factors were now preventing the company from having the truly collaborative team they needed. For a team of 35 employees, APOEL FC was spending more than €200 per month on the original phone system, mainly on maintenance.
With people moving around Cyprus during the season, face-to-face meetings were not possible, causing staff to lose operational capabilities. Nektarios Petevinos, Head of Communications for APOEL FC, was tasked with finding a new solution that would meet the modern needs of this Cypriot staple. A key feature requirement in any new solution was the ability to make video calls.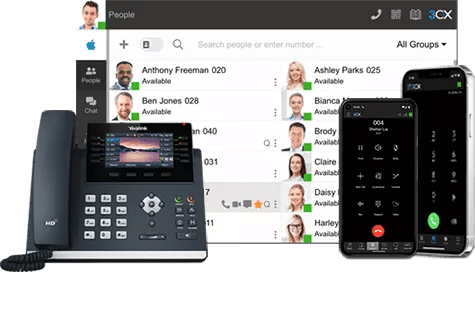 Learning about 3CX, Nektarios found that the features the team needed could be provided in a straightforward solution. 3CX UC's rich feature set, as well as the cost savings compared to our closest competitors, was an easy sell. Video conferencing in a user-friendly interface meant that the entire team could use 3CX without the need for specific training. With the deployment of 3CX, APOEL FC chose to invest in a new local server, which was already needed. However, the way 3CX was developed meant there was no need to upgrade your internet connection.
Nektarios has noticed that there is a measurable increase in staff productivity as they can now continue working even when they are not in the office during the day. Remote capabilities are transforming the way APOEL FC works in a new and positive way. A new modern solution to a local staple that is growing with the times.
3CX ALLOWS APOEL TO BE A TEAM OFF THE FIELD TOO
With a mobile team and staff that also traveled a lot, the APOEL FC Football Club board wanted to find a solution for their troubled phone system and provide more mobility for their team. For the club to communicate more effectively, it was necessary to find a more modern system with additional functionality and cost savings. With its UC feature set, ease of administration, and affordability, 3CX proved to be the ideal solution.
Call centers, cloud phone, phone system, live chat, video conferencing