CCA is a company that serves banking clients and authorized institutions, which operate within Chile, offering processing services to financial institutions, non-bank issuers, and operators registered in the Registry of the Commission for the Financial Market (CMF) of Chile.
CCA highlights as an example of effective use of technology applied to banking the fact that in the year 2020, approximately 590 million TEF operations were processed. The numbers are expressive to describe the performance of a company that is a relevant agent in a banking environment that is in constant development and is approaching its maturity as an instance that is already part of people's daily lives. This has become relevant during the COVID-19 pandemic, where having access to 24/7 transfers is significant in people's lives.
Intending to expand the quality of its services and faced with the expansion of the electronic commerce market and the massification of payment and collection services for different types of accounts, the Automated Clearing Center set itself the challenge of advancing towards a series of projects that aim to promote an internal digital transformation.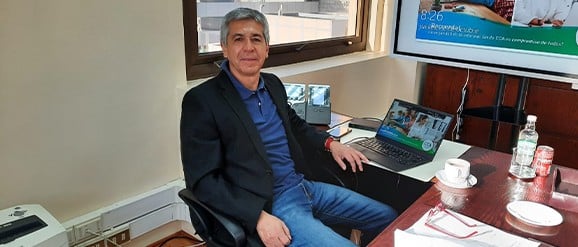 To enter the universe of digital transformation that encompasses technology companies, CCA developed an internal project that prioritized a model to be implemented in the cloud. "We wanted to carry out a project that would promote a change of mentality within the CCA work teams. This internal look allowed us to notice that we should keep our collaborators as communicated as possible. At the end of the project, Microsoft Teams provided us with online communication tools that optimized the levels of productivity among our collaborators", emphasizes Américo Becerra Morales, General Manager of CCA.
To achieve success during the migration from analog telephony to the digital environment, CCA relied on the expertise of Convergia Telecom Chile. According to Gema Mendez, Business Development Manager of Convergia Telecom Cono Sur, "continuing to implement Microsoft solutions of high value and differentiation is undoubtedly a challenge that we always accept with pleasure and to which we still have a lot to add for this 2021."
The pandemic period in 2020 was an accelerator of changes for CCA. The company set itself the challenge of updating its telephone system to generate savings in maintenance and relation to the acquisition of specific hardware for the communications segment. "We had a traditional telephone system that generated a lot of costs. We had a call manager in a hardware format that required specific software for telephony. We noticed that, within cloud solutions, Microsoft 365 offered us the possibility of incorporating other communication services such as integration with Microsoft Teams. Thus, with our collaborators already familiar with Office 365, we were able to transfer our communications to the Teams platform", says Javier Calderón, Deputy Manager of Information Technology at Centro de Compensación Automatizado S.A.
This was what allowed the company located in Santiago the opportunity to integrate the versatility of Microsoft solutions while implementing Office 365 Phone System, which meant migrating the digital telephone network from a physical environment to a network. virtual.
"By choosing the Microsoft Teams telephone solution, we stopped investing in specific hardware that was linked to license renewal and we were still able to keep the number we already had assigned for telephony. In other words, with Teams, we kept our number and telephone exchange (which were previously physically located in our offices) and we added the differential of mobility in the distribution of communications. It is impressive to follow the availability and stability of Microsoft Teams in most of the company's working day", says Calderón of Centro de Compensación Automatizado S.A.
The modernization of the telephone system allowed CCA to reduce the impacts caused by social distancing as a result of the COVID-19 pandemic. The Automated Clearing Center S.A. Today it has 85 employees working remotely and offering their skills in an industry that is extremely critical for the country. Everyone can access Microsoft solutions from their mobile devices, be they smartphones or notebooks. "The fact that employees are always connected safely and quickly results in much more aligned and productive teams at a delicate time in terms of public health," shares Luis Alberto Feldman Silberman, Operations and Technology Manager.

MICROSOFT 365 ARMORED SECURITY
A differential point when choosing the E5 version of Microsoft 365 was the security component that is native to the solution. This solution offers, among other functionalities, technologies so that network communications are encrypted by default. By requiring all servers to use certificates and by using Secure Real-Time Transport Protocol (SRTP), Microsoft 365 E5 ensures that company data is protected on the network.
"For Convergia Telecom, having worked closely with CCA professionals to implement our successful Voice solution for Microsoft Teams, which we market exclusively throughout Latam, was an experience that fills us with pride and satisfaction for the duty accomplished and adding a client more than the importance of CCA."
Gema Mendez: Business Development Manager
Convergia Telecom Southern Cone
Phone system, cloud call, unified communications, cloud voice calls