Fugro is the world's leading geodata specialist, collecting and analyzing comprehensive information about the Earth and the structures built on it. By taking an integrated approach incorporating geodata acquisition and analysis and related advice, Fugro provides solutions. With expertise in site characterization and asset integrity, clients are supported in the safe, sustainable, and efficient design, construction, and operation of their assets throughout the life cycle.
Fugro's Roames platform provides visualization, reporting, and analysis capabilities through real-world 3D environments and is powered by the AWS Cloud. These models are developed by capturing images and data from aircraft equipped with cameras and laser sensors, which fly over customers' infrastructure, such as power lines, and are then used by those companies to manage and maintain their assets.
The ability to access 3D models of real-world environments and receive real-time reports on infrastructure and assets enables Fugro customers, especially in emergency services, to assess the damage and act accordingly. They use this information to identify specific areas of need and work to get those communities back up and running after events like natural disasters.
Fugro's existing process for uploading data to the Roames platform involved transporting disk images by courier, from its global aircraft sites to a third-party data center in Sydney. They were then "plugged in" by a third-party contractor, specially brought in to complete the ingest process. From here, the images were rendered on the Roames platform in the AWS cloud, and Fugro customers gained access to visualization and reporting capabilities.
Fugro's main objective was to optimize its data ingestion and processing activities by creating a more agile, dynamic, and controlled procedure to obtain mission-critical data on the Roames platform. The company wanted to ensure it had optimal control over how its customer data was processed, along with the ability to eliminate any potential problems on time, reduce the risk of double manipulation, and easily maintain equipment. Operational convenience was also a top priority for Fugro, whose team of specialists wanted to ensure a streamlined and seamless process from start to finish.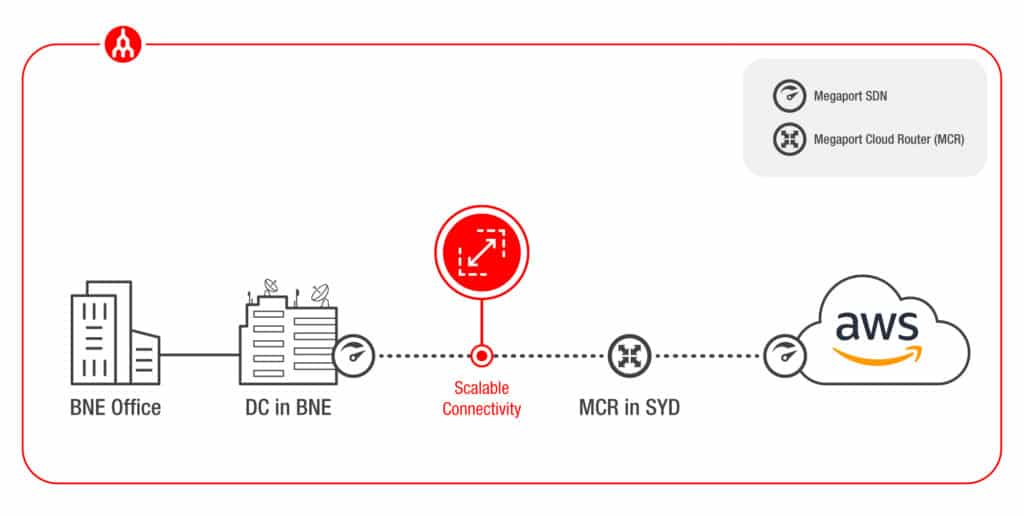 Fugro established a high-performance network with direct connectivity between its Brisbane office and the AWS cloud, using virtual routing, enabling its team of specialists to handle the company ingest and processing operations internally and deliver workloads to your Roames platform faster and more efficiently.
Achievements:
Fugro established a Megaport Cloud Router (MCR), Megaport's virtual layer 3 routing product, in Sydney, and connected to this router from a switch in its Brisbane office via Virtual Cross Connect (VXC).
The company then provisioned a VXC from the MCR to the AWS cloud, connecting its Brisbane office to the cloud at Layer 3.
Functioning as a remote router, the MCR setup allowed Fugro's team of specialists to directly manage and control the data extraction, analysis, and upload process at their Brisbane office.
This meant that Fugro could eliminate its third-party data center infrastructure in Sydney and also eliminate the need for a third-party contractor to handle the processing.
The ability to manage their data upload process within the proximity of their office meant that Fugro not only had greater operational convenience but also their team of specialists could easily resolve any potential issues on time.
PROCESS OPTIMIZATION WITHOUT RISKING PRODUCTIVITY AND SAFETY WITH MEGAPORT
By establishing a high-performance Layer 3 network between their office and the AWS Cloud using MCR, Fugro was able to:
Streamline the process of uploading, processing, and rendering data to your AWS Cloud-hosted Roames platform through internal handling.
Minimize the time required to complete the entire process, thereby giving end users faster access to mission-critical data.
Eliminate any risks, delays, and complications that may occur as a result of double data handling.
Scale your Megaport connectivity up and down, and quickly and privately deploy data from your office to the cloud.
Save on infrastructure and operational costs by eliminating the need for a third-party Sydney data center presence and avoiding having to purchase a typically expensive router elsewhere.
Loading process, data processing, MCR, information analysis, dynamic environments, quick access to data